Primarily by providing unintentional comedic relief, but hey, whatever helps. If you look in our not too recent history, you can find several examples of presidents on both sides of the aisle giving, calm, compassionate support to victims on the ground in the aftermath of a natural disaster.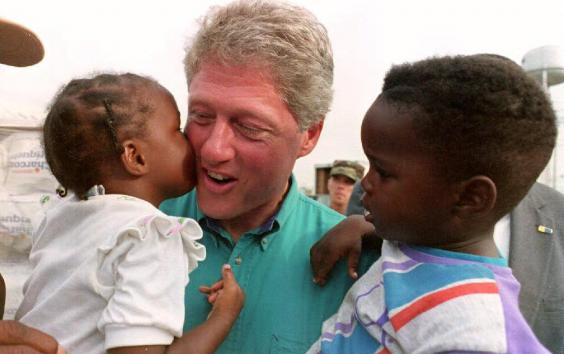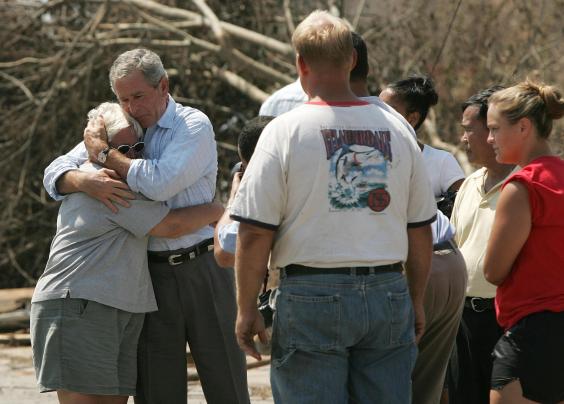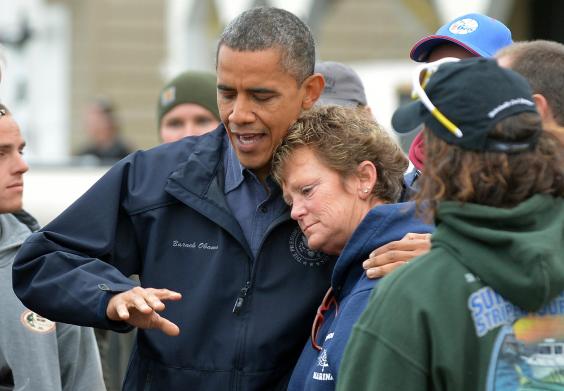 So it's not like there's not a very easy-to-follow blueprint for the Orange Don to use now that a catastrophic Category 4 hurricane flooded Texas and Louisiana, displacing over 360,000 people and killing over 40 as of press time. All he had to do was approximate a semi-human reaction. All he had to do was visit Texas and not talk about himself for an hour or so while looking presidential. Vegas probably didn't even take odds on whether or not that would happen, because of course it didn't fucking happen, because we have a spray-tan-soaked man-baby shit-for-brains as a chief executive.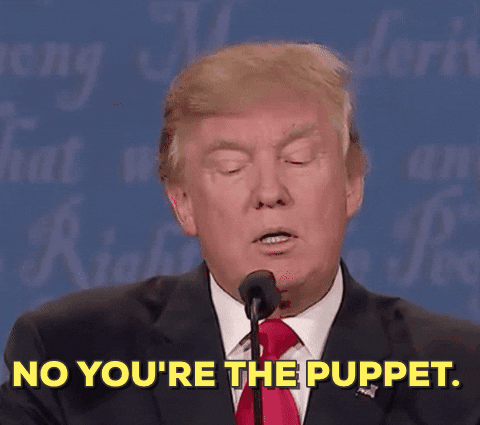 On Tuesday, the Orange Don made his first trip to Texas and stopped in Corpus Christi, one of the first cities to be wrecked by Harvey when it made landfall during Trump's Friday news dump. It started off on a tacky note when the First Couple of QVC America wore hats that could be purchased for the LOW, LOW PRICE OF $40! ORDER NOW AND CONTRIBUTE TO THE IMPEACHMENT LEGAL DEFENSE FUND RE-ELECTION CAMPAIGN OF DONALD J. TRUMP! FIRST 100 ORDERS RECEIVE A FREE MAIL-ORDER BRIDE! CALL WITHIN FIVE MINUTES AND YOU'LL GET A BRAND-NEW FEMA TRAILER!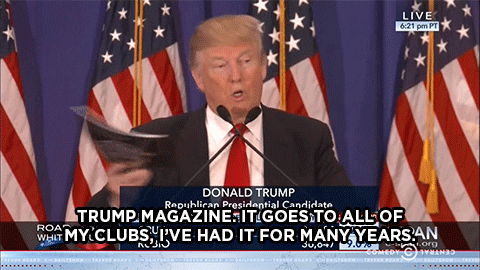 Seriously, don't order those shitty-ass hats from Trump – you can get them practically anywhere else for a quarter of the price. The profits will go to the much nobler cause of funding the Walton family's hefty booze bills.
Once he got to Corpus Christi, it didn't take long for the fuckery to commence at his first briefing. From NPR:
"FEMA Administrator Brock Long also took part in the briefing, after being introduced by the president 'as a man who's really been very famous on television over the last couple of days.' [….] Trump later stood outside the fire station and waved a Texas state flag. 'Thank you everybody,' Trump said, saying the response to the storm's flooding 'is going well.' As he looked over the gathering at the station, he declared: 'What a crowd, what a turnout.'"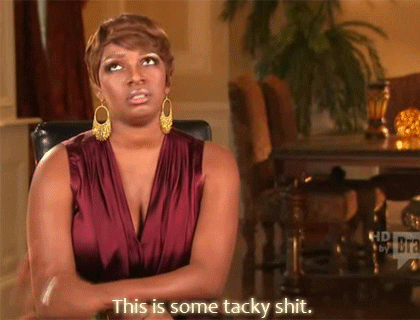 We are never surprised at how inappropriate this man is, but we refuse to stop being grossed out by it. We never want to be okay with the Kumquat Despot using a natural disaster as an opportunity to brag about crowd size. "Aw shucks, you guys traveled all this way to see lil' ole me?" No, bitch! They came to seek comfort and guidance from the President of the United States. As always, this is not all about you.
Shockingly, the Orange Don didn't get rave reviews for, as he Tweefed out, "seeing the devastation first-hand." No, seriously, that's what he said. It was accompanied by this picture of him looking at a radar map in a conference room.
Real man of the people, this numb-nuts. So President Camacho was in damage-control mode when he went to Houston on Saturday. That meant he was extra-careful to appear sensitive when he met with people who'd lost literally everything they owned when he appeared at a shelter in Houston. How successful was he? We'll let you be the judge. From ABC News:
"During [Houston's NRG Stadium] visit, the president at one point chatted with members of the press, and spoke optimistically about the recovery effort and what he's seen, saying 'things are working out well,' and that the recovery effort has been a 'beautiful thing' for the country.

'They were just happy, we saw a lot of happiness,' the president said of his interactions with storm victims. 'It's been really nice, it's been a wonderful thing… as tough as this was, it's been a wonderful thing I think even for the country to watch and the world to watch, it's been beautiful.'"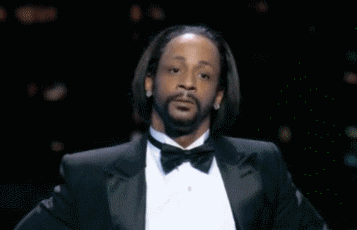 Don't worry, he also maintained his presidential composure when he thanked the Coast Guard for their bravery in rescuing people from the torrential flood waters. Luckily for him, he didn't mention how he still wants to cut $1 billion from their budget. But of course, he couldn't resist nursing his grudge with the media while honoring the nation's heroes, because it's called CLASS, people. From Mediaite:
"As Trump gave a brief address commending the Coast Guard, he dropped a snide insinuation about how media people wouldn't dare run towards disaster or save lives unless they can get a story out of it. 'I hear the Coast Guard saved…almost 11,000 people by going into winds the media would not go into,' Trump said while pointing at the cameras. 'They will not go into those winds unless it's a really good story, in which case they will.'"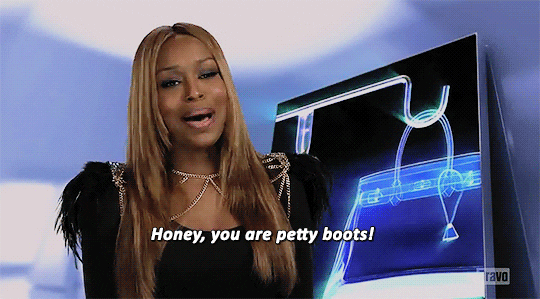 It gets worse, though. If you thought, after Tuesday's trip, that we'd safely escaped Trump's first natural disaster as president without him referring to his imaginary monster cock, you were wrong, Nation. You were so very, very wrong. Because when Trump met with storm victims in Houston, his id took over. And yes, the Apricot Asshole had to mention his super-masculine, not-at-all dainty, tea-pouring hands. From The Independent:
"Video [….] of President Trump's visit to the NRG Center shows him putting on gloves to help with the hand-out at a food serving line before turning to where the press are gathered and saying 'my hands are too big.'"
Sure, OJ Simpson!
You know he really wanted to say, "It's OK, folks! President Big Dick is here! I know you were worried about losing all your earthly possessions just a minute ago. But then you saw my cock-sure stride, and you forgot all about it. With a schlong this big, how could I not solve all your problems? Alright, gotta get these gloves on so I can hand out food, but don't be offended if my MASSIVE PENIS gets in the way. You might get a side of DEEZ NUTS instead of potato chips, but that's the chance you take!"
As confident as we are in the President Super Schlong's ability to cock-slap a hurricane into submission, we're still hedging our bets and donating to the worthy causes listed below.
To donate to the Episcopal Relief & Development Fund, click here.
To donate to the Texas Diaper Bank, click here.
To donate to the Humane Society's Disaster Relief Fund, click here.
To donate to Direct Relief, click here. Ebay is matching donations made via PayPal.
Photo Credits: Giphy, Indy 100, Giphy, Giphy, Giphy, Mediaite, Giphy, Giphy, Giphy