When we say "Breaking News," we mean it entirely in the CNN sense of the word, as in not breaking, not new, and not at all surprising. On Tuesday, the Orange Don sent his house elf Attorney General out to break the bad news that he was rescinding DACA. The Obama-era immigration policy allowed undocumented immigrants who entered the US as minor children to get work permits. People with serious criminal records or who did not graduate from high school were not eligible for the program. Of course, we can't have that shit. Not on Donald J. Trump's watch! From PBS Newshour:
"The Trump administration announced Tuesday it would scale back [DACA]. Attorney General Jeff Sessions said in the announcement that Congress will have time — six months — to draft legislation that would protect these immigrants known as 'dreamers' before permits begin to expire March 5, 2018. [….] 'If we were to keep the Obama Administration's executive amnesty policy, the likeliest outcome is that it would be enjoined [….]. The Department of Justice has advised the President and the Department of Homeland Security that DHS should begin an orderly, lawful wind down, including the cancellation of the memo that authorized this program.'"
We're sure Sessions moved the podium a few inches when he made this announcement. Oppressing minorities just gets Ms. Sessions so hot and bothered.
We can't even say that this was Trump fulfilling a campaign promise, since he's said both that he wanted to end DACA and that Dreamers didn't have anything to worry about because he has a "big heart." To be fair to Trump, though, he's clearly not very good at estimating size, so he wasn't intending to lie when he said he had a big heart.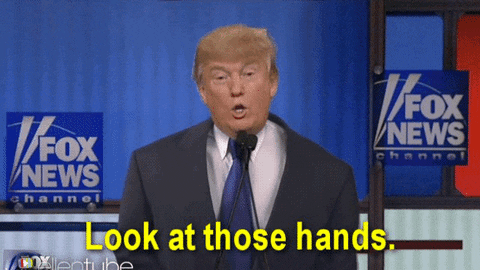 If only the Apricot Asshole admired people the way he admires golf and gold-plated toilets, the world would be a better place. But because the orange-tinted man-baby that currently occupies the White House is nothing if not stalwart in his political views, he's Tweefed out a series of cohesive messages affirming his position on DACA. We're just fucking with you, OF COURSE he's all over the map. After all, it's hard choosing between sucking off his white-hooded political base and being a loved and respected world leader. First, he re-Tweeted a message from a Russian bot his Twitter fan group "The Trump Train" that read:
"We are a nation of laws. No longer will we incentivize illegal immigration."
You hear that, immigrants? FUCK YOU! Country's full! No vacancy! Except, hold on, the President is Tweefing again.
"Congress now has 6 months to legalize DACA (something the Obama Administration was unable to do). If they can't, I will revisit this issue!"
What are you going to do, big man? ISSUE AN EXECUTIVE ORDER THAT YOU JUST GOT YOUR MIDGET ATTORNEY GENERAL TO TELL US WAS UNCONSTITUTIONAL? THAT IS LITERALLY THE ONLY THING YOU CAN DO! Alright, sorry America – we're yelling again. We just still can't believe that the Kumquat Despot hasn't gotten around to watching that Schoolhouse Rock separation of powers episode.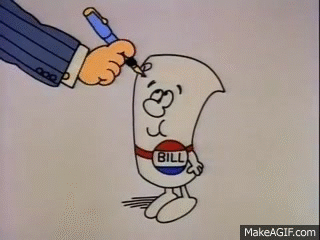 Why bother when you can learn everything there is to know about racism immigration from your ex-girlfriend, Steve Bannon? We'll get to his sorry ass later when his 60 Minutes episode airs this weekend, but we're already anticipating great things from this teaser quote, which truly sums up this administration's viewpoint on DACA:
"Former White House chief strategist Steven Bannon said the Catholic Church's support of the Deferred Action for Childhood Arrivals program, known as DACA, is economically driven and owes to the church's struggle to fill pews. 'To come to grips with the problems in the church, they need illegal aliens. They need illegal aliens to fill the churches. It's obvious on the face of it,' Bannon said."
Trump, gurl, quit drunk-dialing your ex! It's not good for you – or the country.
Photo Credits: Giphy, GIF Images Download, Giphy, Dlisted, Make a GIF, Good Reads