It feels like only yesterday that Daddy Kelly imposed major restrictions on the Orange Don. Even though those restrictions are totally chafing his Cheeto-pimpled ass, President Donald J. Trump is way too lazy to do anything about it. That means he doesn't get to enjoy former pasttimes like reading Breitbart on the shitter.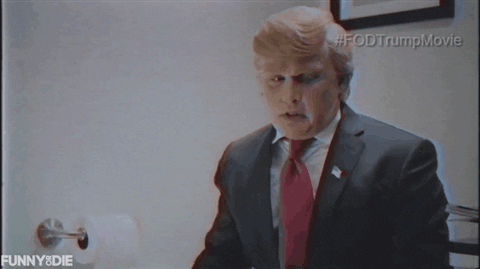 More importantly, Daddy Kelly forced the Orange Don to break up with his toxic ex, Steve Bannon. Now that Bannon is no longer lurking around the White House to whisper sweet dog whistles nothings into President Camacho's ear, he decided to get his ex-girlfriend's attention the only way he knew how: by doing a televised interview. You can see the full interview and transcript here. We highly recommend you watch the full video, because there is nothing that compares to seeing STEAMING HOT SLICE OF MAN Steve Bannon wearing TWO button-up shirts with the top two buttons undone for RAW SEX APPEAL.
Don't you chicks say Bannon never gave you anything (besides Hep C).
Because ladies like to look their best, Ms. Bannon also decided to shellack a metric ton of foundation all over his face to cover up some – how do we put this delicately – imperfections caused by his ALLEGED alcohol abuse. This led Ann Coulter to feign outrage over how awful 60 Minutes' editors made him look. We have to say we agree with Ann on this one. How could you possibly make this Casanova look bad!
We don't know how those liberal thugs at 60 Minutes sleep at night. Now this may shock you, America, but the head of Breitbart said some super crazy and racist shit. We don't have time to recap it all, but here are some of the highlights.
We already covered how avowed Catholic Bannon shaded his own church by saying they "needed illegal aliens to fill" their pews. That was just the tip of the xenophobic iceberg.
Charlie Rose: We're all immigrants. Except the Native Americans –

Bannon: Don't – don't give me – this is the thing of the leftists. Charlie, that's beneath you. America's built on our citizens. Look at the 19th century. What built America's called the American system, from Hamilton to Polk to Henry Clay to Lincoln to the Roosevelts. A system of protection of our manufacturing, financial system that lends to manufacturers, OK? And the control of our borders. Economic nationalism is what this country was built on. You got that guys? America is for Americans only! This is a system built on her citizens! Citizens like Alexander Hamilton, who technically wasn't born in America, but whatever. We suppose since he became a Founding Father and isn't brown-skinned, he gets a pass from Dreamboat Bannon on being a – what do you call it? Oh yeah – an IMMIGRANT. You know, those people who weren't born in this country but migrate here to adopt its principles, pay its taxes, and build its infrastructure? We won't even touch the fact that 19th century America was created through slave labor, because we're sure Bannon would find that to be beneath us.
If you were wondering, America, where Trump got the genius idea to equivocate neo-Nazis with counter-protestors in Charlottesville, look no further than the Jabba the Hutt of carcinogens.
"I was the only guy that came out and tried to defend [Trump]. I was the only guy that said, 'He's talking about something, taking it up to a higher level.' Where does it all go? Where does this end? Does it end in taking down the Washington Monument? [….] What he was trying to say is that people that support the [Confederate] monument staying there peacefully and people that oppose that, that's the normal course of the First Amendment."
You guys, we found a picture of "the normal course of the First Amendment" that took place in Charlottesville.
Here's another one:
This is the same bullshit argument that Brian Kilmeade and Interior Secretary Ryan Zinke used on Fox and Friends when they compared Confederate memorials to the 9/11 Memorial.
The analogy doesn't work because we're not honoring the cause of people who attacked the United States with things like the Washington Monument and the 9/11 Memorial. Unless these assholes want to erect monuments to King George III and Osama Bin Laden, they should probably stop before they fall right off their self-righteous slippery slope argument and hurt themselves
Don't say our boy Bannon is a racist, though. Just because he's a Charlottesville apologist doesn't mean he's racist. He's even been in the same room with minorities on multiple occasions and lived to tell the tale!
"I was raised in a desegregated neighborhood. The north side of Richmond is predominantly black, OK? I went to an integrated school, a Catholic school. I served in the military. I don't need to be lectured by a bunch of limousine liberals, OK, from the Upper East Side of New York and from the Hamptons, OK, about any of this. My lived experience is that."
Hear that, "limousine liberals?" Don't come at private-school attending, multi-millionaire Harvard grad Stephen K. Bannon, aight? The guy who made a second-generation multi-billionaire president doesn't need you looking down your noses at him. Just because he hates Mexicans and Black people and Muslims and women. Oh yeah, how could we forget his misogyny?
"[The Access Hollywood tape] is just locker room talk. [….]When you side with a man, you side with him, OK? The good and the bad. You can criticize him behind, but when you side with him, you have to side with him. And that's what Billy Bush weekend showed me."
Damn, Bannon is one loyal boyfriend.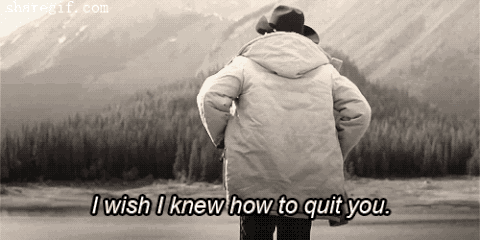 Trump could probably grab his wife and daughter by the pussy right in front of his necrotic face and Bannon wouldn't say shit to him. Because once Bannon sided with Trump, that was it. No independent thought required after that. Of course, Bannon still rips Trump a new asshole via Breitbart every time his Orange Overlord even thinks about pussing out on building a border wall. But that's important, not some trivial sexual assault. It's hard to care about stupid shit like women's rights when you've got two paragons of masculinity running the country.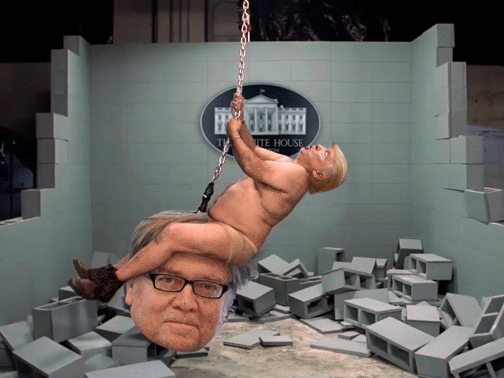 Photo Credits: Radio New Zealand, Giphy, Business Insider, Snopes, BuzzFeed, NY Times, geekXpop, Media Matters, Cosmopolitan, Giphy, Giphy