There was a wee bit of a controversy this past weekend when the Orange Don decided to distract people from his piss-poor leadership skills get in a pissing contest with the NFL. Since Friday, when Trump decided to unload his purse at an Alabama rally for failed Alabama senatorial candidate Luther Strange, we here at GossiPol did the hard job:
Ahem. We did the – difficult – job of tallying Trump's Tweefs by subject matter. The total from Friday to Monday is as follows:
• Fake News: 2 Tweefs
• Alabama Senatorial Race: 3 Tweefs
• How Shitty the UN Is: 1 Tweef
• Attention-Stealing Hurricanes: 4 Tweefs
• Healthcare (a.k.a. dragging John McCain for wanting to insure sick people): 7 Tweefs
• The First Lady, Melanoma or Whatever: 1 Tweef
• Iran Maybe Getting Nuked: 1 Tweef
• Right After North Korea: 1 Tweef
• But Not Before THEY'RE FIRED – I mean, BANNED: 1 Tweef
• How Beautiful That Dump of a White House Is: 1 Tweef
• FUCK THOSE KNEELING, UPPITY BLACK PEOPLE IN THE NFL AND NBA: 19 Tweefs
That is not a typo, America. Four times (which is being generous, since three of those are consecutive Tweefs about Puerto Rico – more on that in a minute), our Orange Overlord multi-tasked and graciously turned his attention to the suffering of people devastated by three consecutive hurricanes while dropping a KFC deuce. Nineteen times, he decided to shank at professional athletes for being disrespectful to our anthem. How dare they! That's his job, dammit!
Four versus nineteen. Nineteen is more Tweefs than four. A LOT more.
Don't worry, though – he only Tweefed less about Hurricane Maria because of the care, attention, and detail he poured into those messages. Haha, LOL, just kidding, he's still an asshole. Of course he's the worst and of course his Twitter messages were the exact opposite of thoughtful and professional.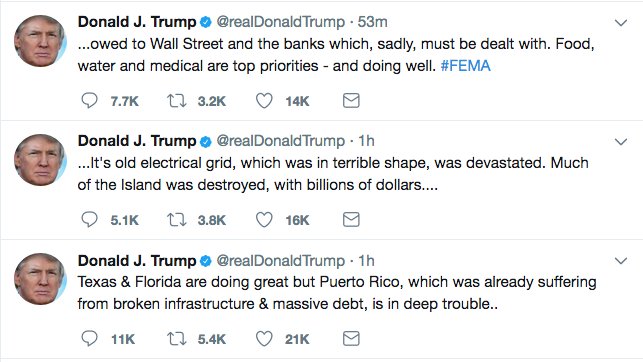 When you look at Trump's Tweefs, it's almost like he's jealous of the hurricane because it got to kill so many more Hispanics than he has. Maybe he'll catch up before he's impeached his term is up. Leave it to Trump, though, to find the most callous way to promise he'd deliver hurricane relief. Puerto Rico was poor and Hispanic before the hurricane got there. Don't blame him if those dirty Mexicans can't find a way to repay their debts! Why don't they just declare bankruptcy like any self-respecting white con man businessman? Oh yeah…because for a long time, they were legally barred from doing so. Can you imagine how the Kumquat Despot would react if he was never allowed to declare bankruptcy?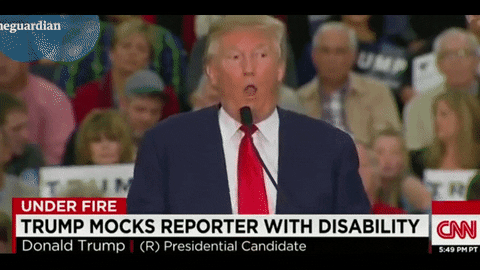 Yeah, we imagine it'd look something like that. Well, America, we can finally say, after nine months, we have a president who is qualified for the job. After all, if anybody knows bankruptcy, it's Donald J. Trump.
Yesterday, President Camacho had a press conference that didn't exactly assuage people's fears about his bass ackwards priorities. From Mediaite:
"'To me the NFL situation is a very important situation. I've heard that before about — was I preoccupied? — not at all,' said Trump. 'I have plenty of time on my hands. All I do is work, and to be honest with you, that's an important function of working. It is called respect for our country.'"
We knew eventually that the Apricot Asshole would have a Freudian slip and accidentally admit that he has "plenty of time on his hands." Donald, gurl:
It's obvious. Your Tweefing schedule is about as regular as your trips to your tacky-ass golf courses. I mean, we're constantly on the Internets, but we're just an asshole political dick-joke blog. What's your excuse Mr. President?
Right. That makes sense.
If, unlike our President, you actually want to help the more than 3 million victims in Puerto Rico, HERE'S a link to One America Appeal, a charity touted by all our living former presidents (any one of whom we'd take over the coked-up orangutan currently occupying the Oval Office). You can specify that the aid be donated to victims of Hurricane Maria.
Photo Credits: Giphy, Imgur, SBS.au, Giphy, Twitter, Giphy, Giphy, Laughing GIF