Acting in complicity! You know the words, America! So yeah, shit got real over the last few days, didn't it? The Orange Don, tired of the subtlety of dog whistles and coded racism, went all-in and straight-up defended white supremacists. It's kind of a refreshing return to his roots, since a recently-unearthed 1990 interview with Vanity Fair shows that all the jokes about this Cheeto-encrusted sack of shit keeping a copy of Mein Kampf in his bedside table wasn't too far off the mark.
"Ivana Trump told her lawyer Michael Kennedy that from time to time her husband reads a book of Hitler's collected speeches, 'My New Order,' which he keeps in a cabinet by his bed.

'Did your cousin John give you the Hitler speeches?' I asked Trump.

[….] 'Actually, it was my friend Marty Davis from Paramount who gave me a copy of Mein Kampf, and he's a Jew.' ('I did give him a book about Hitler,' Marty Davis said. 'But it was My New Order, Hitler's speeches, not Mein Kampf. I thought he would find it interesting. I am his friend, but I'm not Jewish.')

Later, Trump returned to this subject. 'If I had these speeches, and I am not saying that I do, I would never read them.'"
Considering that his dad was ALLEGEDLY arrested for rioting with the KKK, we'd say maybe the apple doesn't fall too far from the white supremacist tree.
As we've all heard by now, there were two white supremacist rallies in Charlottesville, Virginia this weekend. The second one took a tragic turn when Heather Heyer, a counter-protestor, was mowed down by a Nazi in his car. I call him a Nazi because here he is with his fuckhead Nazi buddies (center):
The ostensible purpose of these "Unite the Right" rallies was to protest the removal of a statue of Confederate general Robert E. Lee. Strangely, though, the way these assholes chose to protest said removal of said statue was to shout slogans, hold up signs, and give speeches that had absolutely no mention of Robert E. Lee or his memorial. Here's what some of these idiots, who were chanting "blood and soil" (a charming throwback to Nazi Germany) looked like: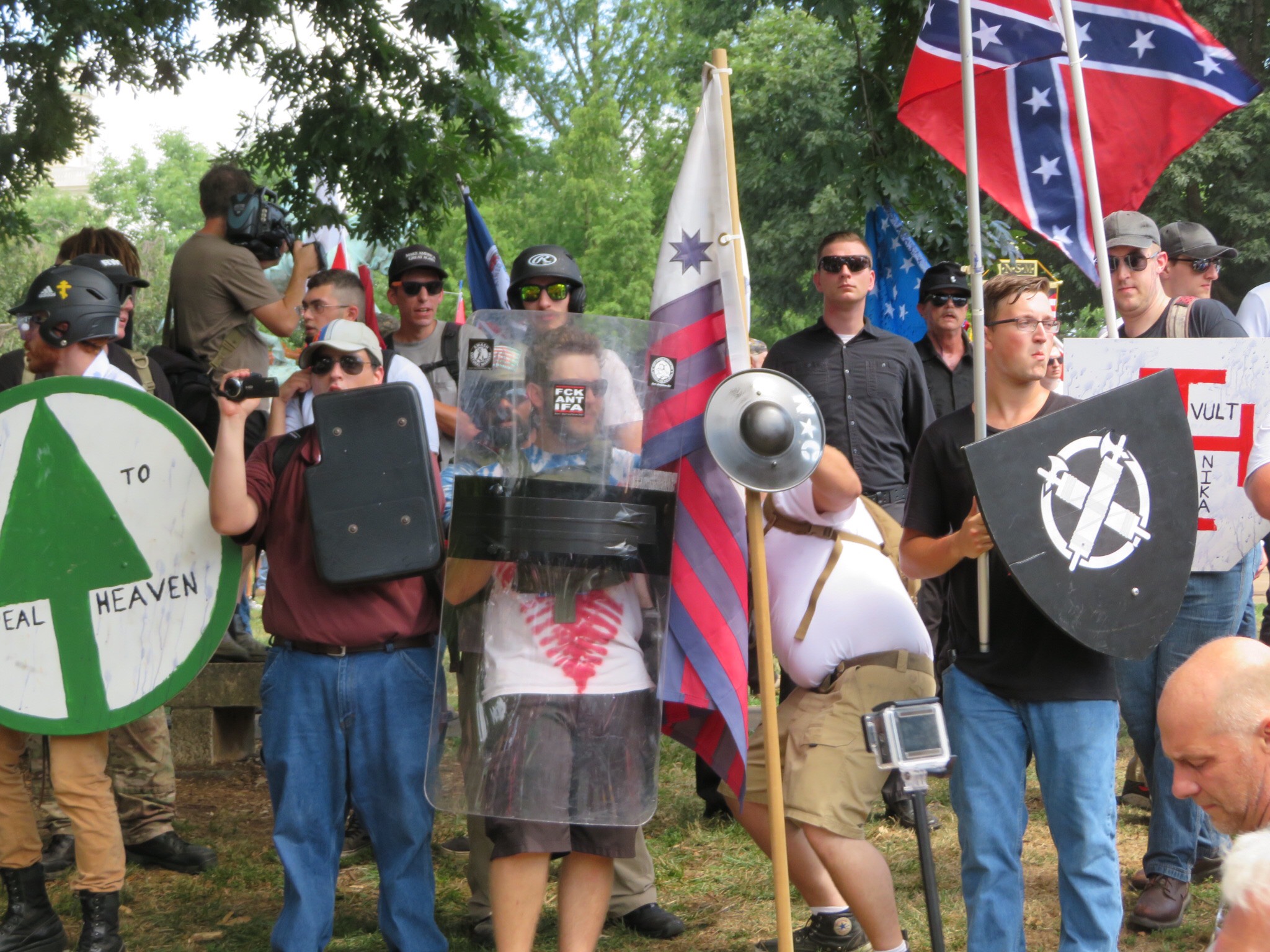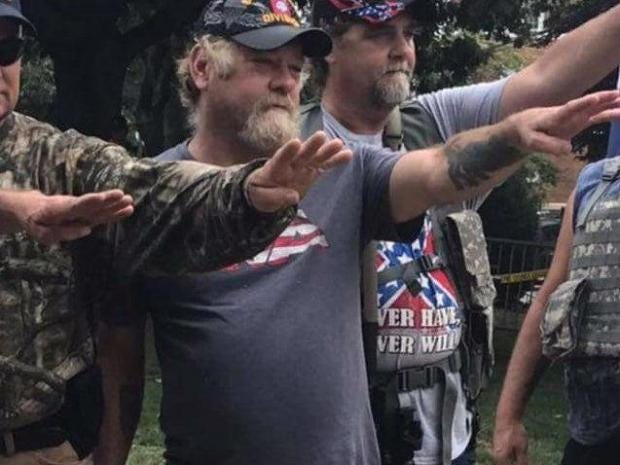 If you were a normal person who wanted to protest the removal of a statue, and you saw these fuckwit fascists when you arrived at the demonstration, you turned right back around and got as far away as possible. If you were a white supremacist, you stayed. Call it woman's intuition. There's just something about a swastika that sends nice, decent folk running in the other direction.
Unless, of course, you're the Kumquat Despot. After Steve Bannon likely whispered sweet nothings in his ear, he decided that lots of super cool, nice people were on the white supremacist side. And because he has absolutely no self-control, he decided to let the entire fucking world know that. Right before the signing of an executive order, the Orange Don let his freak flag fly on the Charlottesville crisis. From ABC News:
"'We condemn in the strongest possible terms this egregious display of hatred, bigotry and violence on many sides,' Trump said Saturday from his golf resort in Bedminster, New Jersey. Looking directly at the camera, he repeated, 'On many sides.'"
He then promptly left the stage before signing the executive order, and not for the first time, either.
The very next day, Trump walked it back. But you just can't keep a good racist down, because the very next day, he let us all know that scripted statement condemning racism was #FakeNews. At a presser in Trump Tower, the Orange Don went off script again in the most fucktastic display we've ever seen. From CNBC:
"You have some very bad people in that group, but you also had people that were very fine people on both sides. [….] You had people in that group that were there to protest the taking down of, to them, a very, very important statue and the renaming of a park from Robert E. Lee to another name. [….] So, you know what? It's fine. You're changing history. You're changing culture and you had people, and I'm not talking about the neo-Nazis and the white nationalists because they should be condemned, totally. But you had many people in that group other than neo-Nazis and white nationalists, OK? And the press has treated them absolutely unfairly."
Yup, some fine people. Like Richard Spencer, Baked Alaska, and this super-cool racist named Jason Kessler, who spoke at the event.
"No. No. There were people in that rally — and I looked the night before. If you look, there were people protesting very quietly the taking down of the statue of Robert E. Lee. I'm sure in that group there were some bad ones."
Let's look at the night before!
Aw, polo-wearing bros who shop at Pier One couldn't possibly be bad! Wait, what? They were chanting "blood and soil" and "Jews will not replace us"? Never mind, fuck them.
For anyone who does not think what Donald Trump said yesterday was a clarion call to white supremacists (and unfortunately, there are quite a few people who fall into this camp), think back to the days of the Civil Rights Movement. These are the exact same kinds of arguments used by segregationists to decry civil rights activists. Were there people in the Civil Rights Movement who were violent? Of course! You don't suffer under institutionalized racism your entire life without getting just a little pissed off. But make no mistake, America – the only reason to bring up the "both sides" argument is to equivocate white nationalists with those who fight for equality. We've seen it before – let's not let history repeat itself.
Photo Credits: Huffington Post, NY Daily News, Los Angeles Daily News, Jewish Telegraphic Agency, The Independent, ABC News, Giphy, Outside the Beltway, The Gem Diva, Giphy