You know your troll game is strong when Grandpa Munster's busted condom baby is giving you props.
Yesterday, everyone's favorite socialist curmudgeon decided to bring his next-level dankness to the Senate floor. He did that by reminding everyone in a speech about healthcare that the Orange Don promised during one of his marathon Tweeting sessions that he would not approve any cuts to Medicare, Medicaid, or Social Security. And like any old man, he decided that using confounded, goddamn technology wouldn't be sufficient in getting his point across. So he sent his aides out to Kinko's to blow that shit up and glue it onto a huge poster, so everyone could drink it in with their eyeballs.
According to Bernie's Communications Director Mike Casca, this particular Bern Burn even got a chuckle out of Ted Cruz's rubber face.
"Earlier today, Sen. Ted Cruz chuckled when I walked past him carrying this poster."
When Bernie took to the Senate floor, he made sure to drive the point home.
"Millions of people voted for [Trump] on the belief that he would keep his word. If he was sincere, then I would hope that tomorrow or maybe today he could send out a tweet and tell his Republican colleagues to stop wasting their time and all of our time. And for Mr. Trump to tell the American people that he will veto any proposal that cuts Medicare, that cuts Medicaid or that cuts Social Security."
Please, don't ever, ever, ever, ever change Bernie. We love you – just as you are. So much, in fact, that we're going to play you out with another dank meme.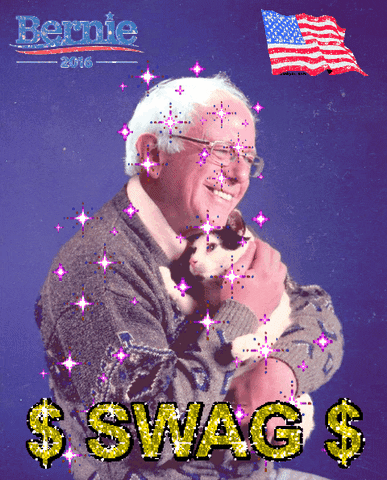 Photo Credits: Know Your Meme, Attn, Giphy