And we're here to make America great again, one dick joke at a time. Why the prolonged absence, you ask? A simple reason, really:
That's us in about five months, giving birth to what we presume will be a human child (though we're always holding out hope for a litter of kittens). If you think writing a political gossip blog while battling morning sickness is easy, think again. Looking at pictures of Donald Trump's dehydrated turd of a face is enough to give anyone the heaves, but when your hormones are out of whack, forget about it. This was me at my computer screen before the first debate was even over: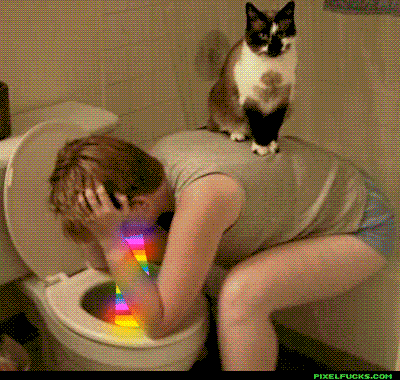 We might still barf on our monitor in our search for quality gifs, but we're willing to make that sacrifice. The people need us, and we need something to do to pass the time while our application for Canadian citizenship is being processed. So get ready America: we're grabbing the Internet by the pussy, and we're not letting go until she files for a restraining order!
Photo Credits: Giphy, Slate, Giphy