Let's all take a moment to enjoy how awesome Jon Stewart's brief return to television really was. He only needed about ten minutes on The Late Show with Stephen Colbert to completely decimate Donald Trump, Fox News, and the Republican Party. It's all here if you haven't seen it yet.
The monologue was inspired by Roger Ailes' resignation from Fox News, which happened after he tried to recreate the slave-girl Leia scene from Return of the Jedi about 3,000 times over the course of his career.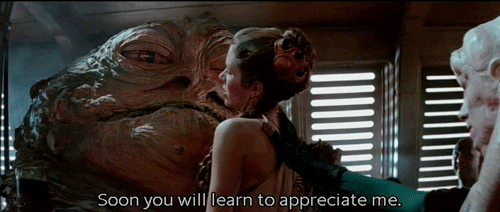 We'll get to that gelatinous hypocrite later. For now, let's stick with Jon Stewart and his brilliant monologue. He had some special words for Sean Hannity, whom he dubbed "Lumpy." It went something like this:
"Either Lumpy and his friends are lying about being bothered by thin-skinned, authoritarian, less-than-Christian readers-of-prompter being president. Or they don't care, as long as it's their thin-skinned prompter-authoritarian-tyrant-narcissist. You just want that person to give you your country back. Because you feel that you're this country's rightful owners. There's only one problem with that. This country isn't yours. You don't own it. It never was. There is no real America. You don't own it. You don't own patriotism. You don't own Christianity. You sure as hell don't own respect for the bravery and sacrifice of military, police and firefighters."
Or, to paraphrase:
As you can imagine, Hannity didn't take too kindly to being shanked at for acting like the world's biggest hypocrite. Maybe it was the whole "Lumpy" thing? After all, Hannity has to be the softest-looking MMA master we've ever seen. But he can totally kick your ass.
The next day on his radio show, Hannity let the world know he wasn't bothered as he dry-sobbed his way through a profanity-laden tirade about what a meanie Jon Stewart was.
"I see they brought that idiot Jon Stewart back from the dead. Great, attack me all you want. I was right about Obama and you're a fool who head his head — had your head so far up Obama's ass, Jon Stewart. I've never seen anybody kiss an ass like you kiss his. And now you're sucking up to him putting your head up Hillary's ass and sucking up to her too. Fine."
Damn, Hannity, gurl, you seem a little hot and bothered.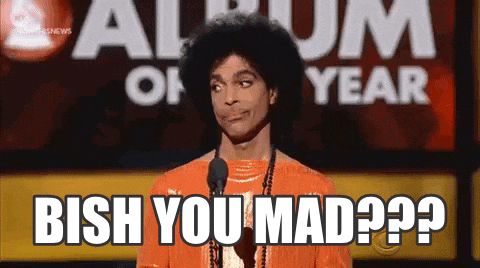 Hannity couldn't let it go, either. Like the Calvin Harris to Jon Stewart's Taylor Swift, he wants the world to know that he dumped her, not the other way around. And like all mature adults, he took to Twitter to prove just that.
"I've never seen anyone kiss more ass than #JonStewart. You're a fool, go back into retirement."
Ha! Way to not give him the power, gurl. Don't worry, you'll stop crying soon, Lumpy.
Photo Credits: Bob Cesca, Giphy, Wifflegif, Giphy, MTV