Trump campaign manager Corey Lewandowski, who could totally bench more than you brah, was charged Tuesday morning with assaulting former Breitbart reporter Michelle Fields.
The arrest stems from an incident at a March 8th Trump campaign rally, which is so surprising considering how calm and tranquil those events normally are. Fields, who worked for Breitbart at the time, thought she'd do her job as a reporter and interview the dehydrated cheese doodle that's running for president. Roided-up fuck boy Lewandowski wasn't about to let that shit slide on his watch brah, and grabbed Fields with his super sweet biceps (they've been getting a little extra love at the gym lately, not that he likes to brag or anything).
Because he's so studly and beefed-up, that shit left a mark. No biggie though, because Breitbart is totally in the tank for Trump. All Fields wanted was a private apology and she would do what most women who come into contact with Corey Lewandowski probably do – try and forget it ever happened. You poor, sweet girl, Michelle Fields – don't you realize the level of misogyny you're dealing with here?
Both Trump and Lewandowski called her a crazy, lying-ass bitch and said she was making it all up. Even in the face of an independent witness, pictures of her injuries, and not one, but two different videos of the incident, Trump's camp tried to make like this pro-Trump reporter was cray-cray. I've said before that when Trump brags about the size of his manhood, he's talking about the gargantuan cojones it would take to barf up the bullshit we hear from him on the reg.
Michelle Fields didn't take too kindly to Trump's smear campaign, so she filed charges against him. And wouldn't you know it, the cops seem to believe actual evidence over the word of the taint sweat left on a workout bench. Cops are such haters, you guys. I'm not worried for our boy Corey, though. He'll beat this shit at trial when he whips out his dick and cock-slaps the victim in closing arguments. Case fucking closed.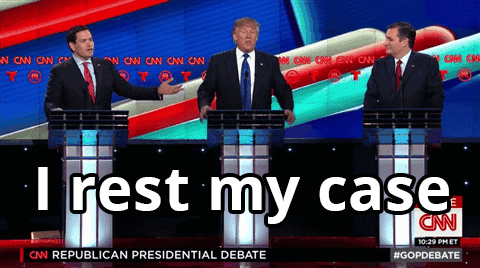 Photo Credits: Crimefeed, Comedy Central, Giphy, Giphy, Giphy