On Saturday, Bernie Sanders won the Democratic primaries in Washington, Hawaii, and Alaska with margins of 60% or better. His victory was foretold by a little birdie, who decided to give America the gift of another dank meme when it landed on Bernie's podium during a campaign rally in Portland, Oregon last Friday. He is known henceforth as:
No cute animals landed on Hillary's podium during any of her recent rallies. I'm not judgmental or anything – just kidding, I'm a judgmental bitch. Let's roll that beautiful, hate-filled meme:
Bernie could use the momentum, since he's still way behind in the delegate count heading into the April 5th Wisconsin primary. If you see adorable woodland creatures waiting in line to vote, you'll know the Beastmaster, a.k.a. Birdie Sanders had something to do with that shit. Now, let the dank memes roll!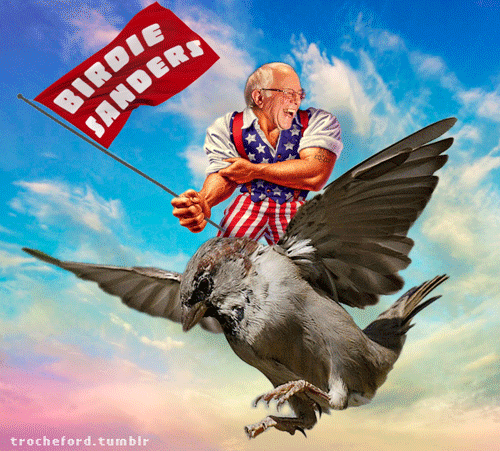 Photo Credits: Giphy, Tumblr, Whisper, Giphy