And that's putting it mildly. America's favorite racist cheese doodle Donald Trump had to cancel his latest Klan meeting – I mean, political rally – in Chicago because clashes between supporters and protesters got too out of hand.
When asked about why his rallies have been marred by violence of late, Trump took a deep, introspective look and admitted that his inflammatory rhetoric at the very least contributed to the poisonous atmosphere surrounding his campaign. I'm just fucking with you, of course he blamed somebody else for it, namely Bernie Sanders:
"I certainly don't incite violence and […] I don't condone violence."

"Some [Trump rally protesters] represented Bernie, our communist friend. Get your people in line, Bernie."

"Bernie Sanders is lying when he says his disruptors aren't told to go to my events. Be careful Bernie, or my supporters will go to yours!"
Bernie denied that he told anyone to go to Trump's rallies, and shanked back at Trump for being as truthful about Sanders supporters as he is about his dick size:
"I think almost everybody knows, this man cannot stop lying about anything. To call me a communist is a lie. To talk about our organization, our campaign, disrupting his meeting is a lie."
Man, who to believe in this situation: a known liar who brags about his manhood during a debate, or a seasoned public servant who regularly drops truth bombs? Seriously though, how long will we see this kind of unrest at Donald Trump rallies? Maybe what Donald should do is get rid of that pesky Secret Service – they're just holding him back. He told them so himself after a protester stormed the stage during a Trump gathering in Dayton, Ohio. To hear Trump tell the story, the protester was a "tough cookie" with ties to ISIS (which is a funny way to describe an American with no terrorist ties). The Orange Don could've totally taken him, you guys, probably by whipping out his gigantic dong and cock-slapping him back to the Antebellum South, when America was great (again).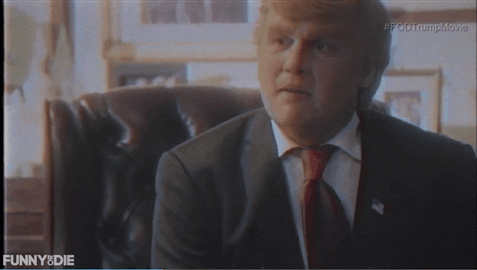 Sigh. So, how's Canada looking this time of year?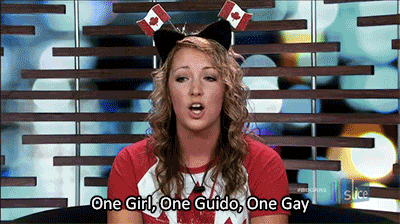 Cool! Let's move there then, eh?
Photo Credits: Reddit via Giphy, NRCC Blog, Funny or Die via Giphy, Tumblr via Giphy